A Success Story from


Akouélé Ekoué Hettah, owner of a clothing boutique in Lomé, started her shop with limited business knowledge, or as she would say "blindly, by trial and error". However, after taking the Personal Initiative Training course, she has become an accomplished entrepreneur. Having gained credibility in her business environment and vis-à-vis her customers and partners, she was able to obtain financing for her business much more easily. "When it comes to providing financing, we only think of banks and microfinance institutions, but after my training I realized that suppliers, friends, and relatives can also be sources of financing," she said.
A constant pursuit of innovation is one of Akouélé's most important attributes as it enables her "to stand out among her competitors." Today she is adding her personal touches to wedding dresses that she has purchased from her suppliers, to attract more customers. "We need to have innovative products, creative ideas. We need to propose extra special items to appeal to our customers," she says.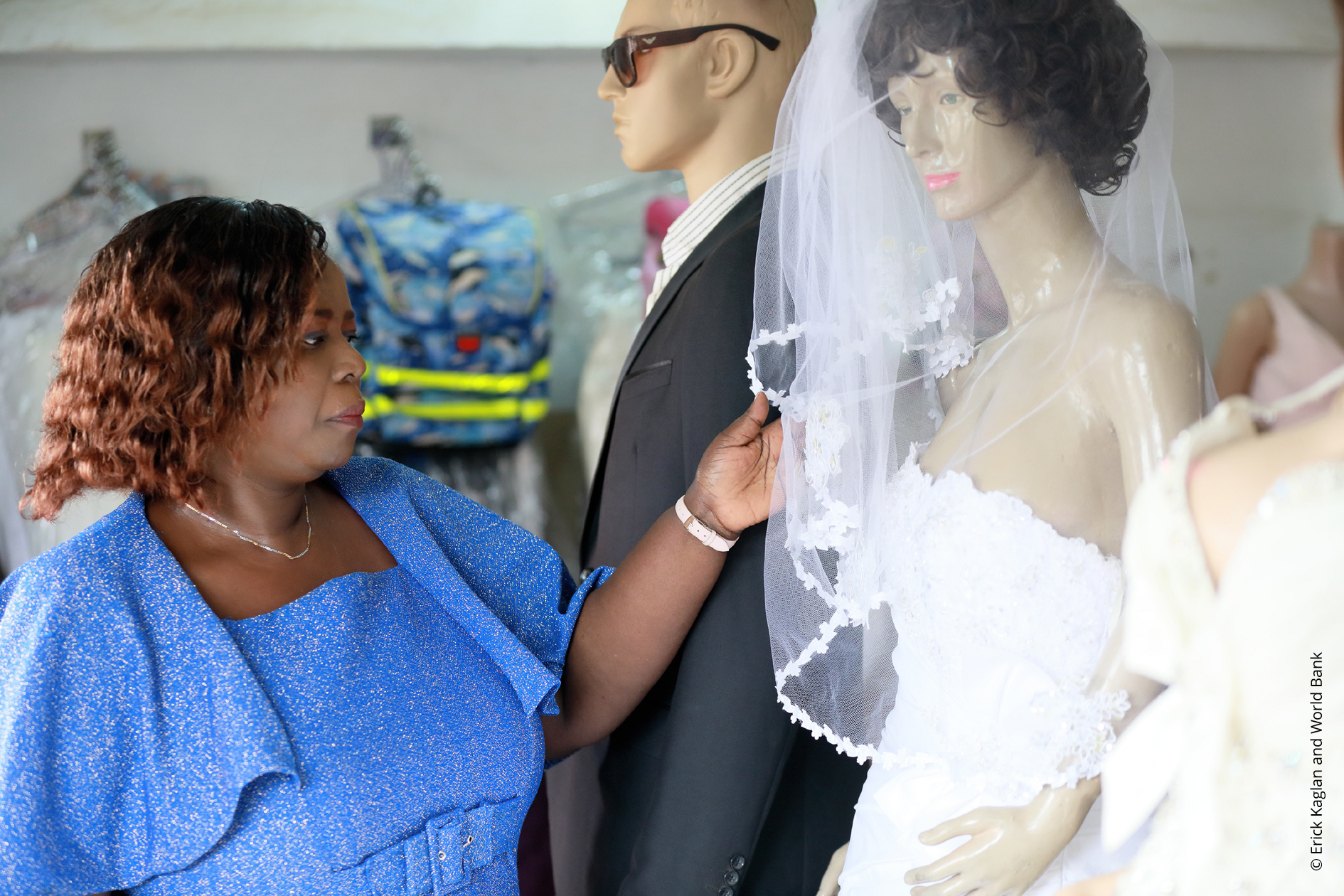 Akouélé has become more ambitious since her training and now has bigger dreams. Her boutique began to seem too small to her, so she moved her business to a more prestigious location on a boulevard in Totsi, a western suburb of Lomé. She has even turned her eyes to the international market, with a boutique already open in Benin and another under way in Ghana. Not only is Akouélé's business growing, but so are her ambitions.
Success Stories from


One participant from Uganda produced cheap aluminum saucepans of low quality – a highly competitive market in Kampala. Due to his participation in the training, he decided to switch to higher quality production to target a better paying customer group and to differentiate his business from his competition. He invested in testing his products at the National Bureau of Standard (NBS). Based on detailed feedback of quality deficiencies, he managed to improve the production process (e.g., by applying special tools) and finally was certified by the NBS. With the quality certificate, he approached a wholesaler for household articles and succeeded in securing a large order that was worth about 10 million Ugandan Schillings and that kept him and three cooperating firms busy for more than one year.
A second participant from Uganda produced and sold pastries in her small bakery located in a sparsely inhabited and relatively poor neighborhood about three kilometers outside of Kampala center. After taking part in the training program, she decided to extend her customer base outside her neighborhood in order to gain independence from the local market and to increase profit. She wanted to reach these goals by displaying her pastries in a big supermarket in the town center. She started out by checking the product range of various supermarkets and found one displaying only a few varieties of cakes. She baked cakes that differed by form, color, and ingredients from those offered by the supermarket and approached the manager with samples. She managed to convince him of the attractiveness of her cakes to potential customers and was permitted to display the cakes in the supermarket on a commission basis. Her plan worked out and both her turnover and profit increased.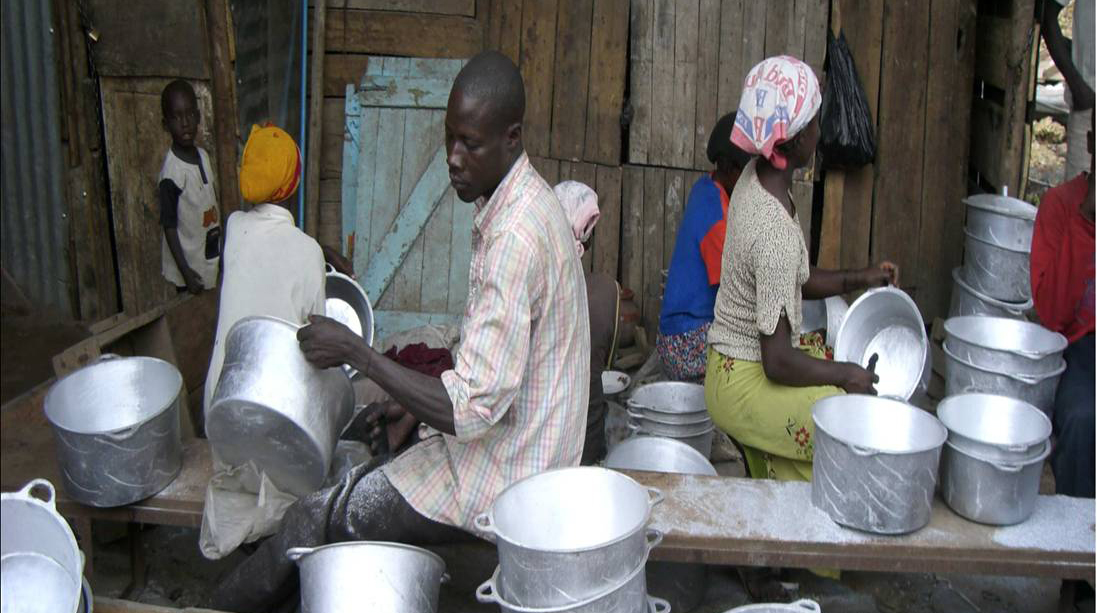 A third participant from Uganda owned a successful, nationwide funeral service; she had already thought about expanding her services to neighboring countries before participating in the training program. What had kept her from realizing this idea were her worries about facing an uncontrollable business environment in these countries. Her participation in PI Training made her realize how important it is to shape the environment. This was the initial spark for exporting her products to Sudan and Kenya. This led, indeed, to a strong enhancement of success. In addition, one of the participants in the training group received an entrepreneurship award by the Uganda Investment Authority for this entrepreneur's expansion of the business after participating in the training.
A Success Story from


Habibou Ouro-Djobo runs a subcontracting business. For a long time, he lacked confidence in himself and what he was doing. He often gave up at the smallest obstacles. But recently, he has overcome these barriers thanks to the personal development concepts he learned during a Personal Initiative Training. Not only did the course give him fresh motivation, it also gave him the necessary confidence he needed to move ahead on the challenging road to entrepreneurship.
"The other business training courses focused merely on the concepts and principles of entrepreneurship. It was more theory than practical knowledge. This was a more dynamic training course, helping us to become engaged by using personal development techniques," he explains.
Ouro-Djobo has become much more structured and methodical in his work and is aiming to professionalize his business. "During the training we were taught to set objectives for ourselves and how to rise to the challenges we might eventually face. Since then, I have tried to build relationships that can be useful to me in the future. In the past, that was something I didn't do," he adds.
Today, he honors all of his commitments and works to enhance his credibility with his partners. His ambition is to see his business grow and to leave the subcontracting field in order to bid on projects himself. He believes that he now has the key to achieving that.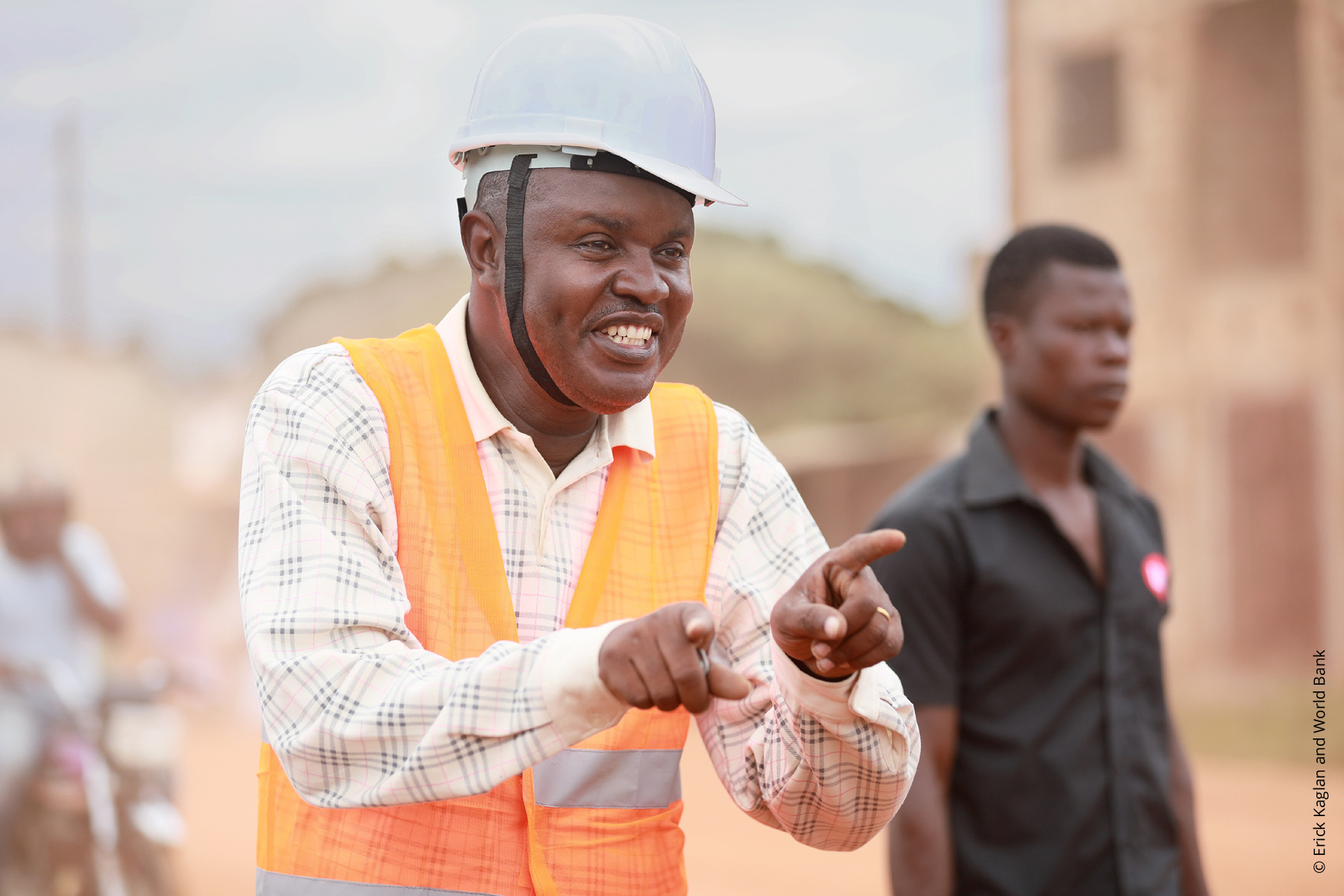 A Success Story from


"Even though I might fail from time to time, I am ready to get back on my feet again. I will not give up any more!"
Yeshi, a participant from Ethiopia, started her shop for dairy products two years before the training. She sold dairy products and served her customers on the little veranda whenever they wanted to enjoy her products right away. She has 4 employees. During the training she realized that she had been very passive and reactive for the last two years. Instead of renting out the room next-door to another person, she could use the room to serve the customers who needed to squeeze on her tiny veranda so far. The training opened her eyes and she suddenly understood that she had to become active herself and change something in order to increase her business success.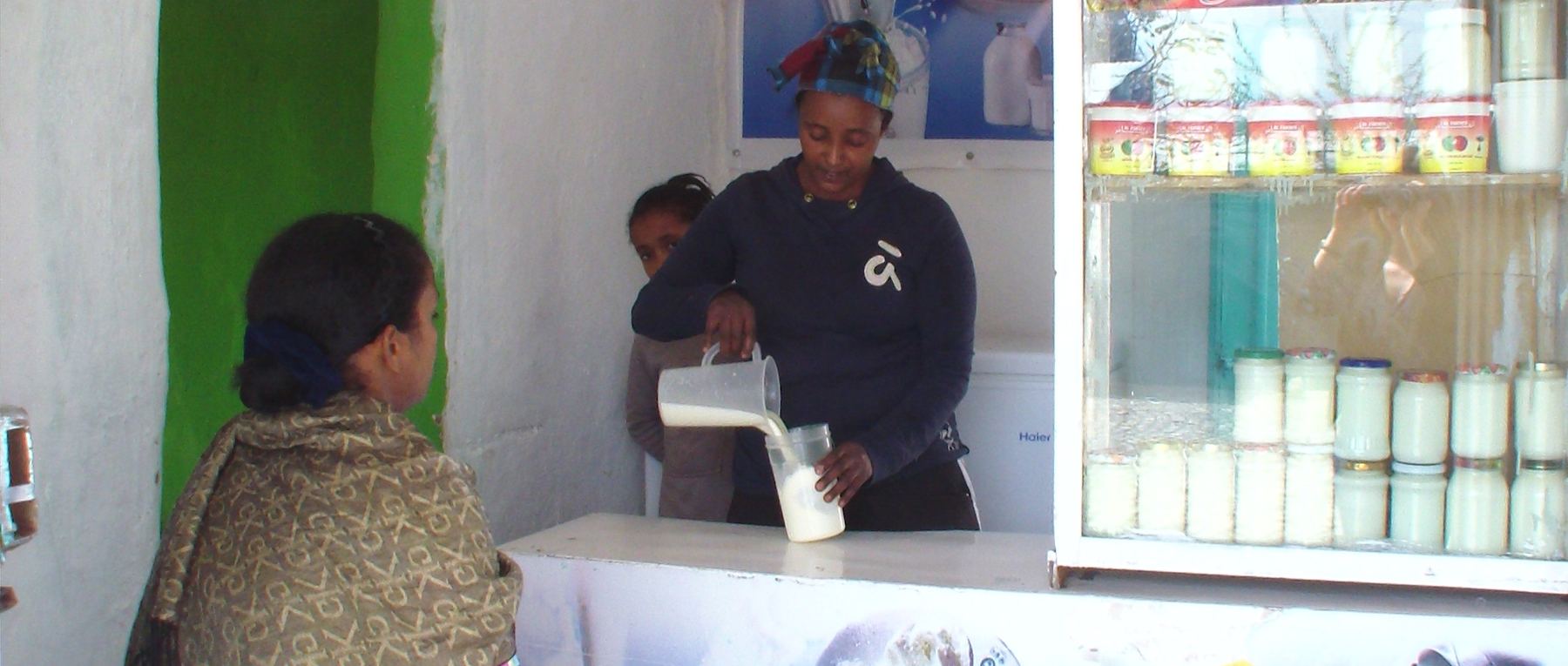 Even before the training was completed, she started to paint the room next-door and opened a colorful restaurant. She used chairs and tables from her house and only paid for a new floor. Now her customers can enjoy her dairy products right at the shop and order breakfast and lunch as well. This change already significantly increased her income! Prior to the training, she used to get 1200 ETB rent from the tenant – now she already makes an additional profit of 100 ETB per day. This adds up to around 3000 ETB per month. The new restaurant is also a solution for the difficulties she faced at fasting days and during fasting periods when customers were not allowed to eat any dairy products. Now, she is able to prepare fasting food for these customers.
The training has activated her – without the training, she would not have implemented the change, Yeshi says! Additionally, the training helped her to carefully develop her plan step-by-step before putting it into practice. For the future, Yeshi plans to produce dairy products on her own since she has always been interested in agricultural activities. But more importantly, this will allow her to be independent from suppliers in her area. Although she had started this plan many months before, she had not done anything because she was afraid that she couldn't make it. The training pushed her to pursue her plan – she already bought a piece of land and started negotiations regarding the cows. Due to the training, Yeshi says, she is not afraid any more.
A Success Story from


A fashion designer by training, Leila Salifou has been involved in the catering business for several years now.
An only daughter, Leila Salifou decided to continue her mother's business, leading her to take over her mother's restaurant after her training. But she felt as though something was missing, like a sauce that needs an extra pinch of salt. This was the secret she learned in the Personal Initiative training, which for her was a little like teaching a person to fish rather than giving him or her the fish. It opened her eyes and enabled her to move out of the informal sector.
"Before this training, I had a small restaurant. Like so many other good ladies along the side of the road, I sold foufou. But after the Personal Initiative Training, I did some further training in catering and then registered my business at the Centre de Formalités des Entreprises to obtain my official economic operator's card. It was the training that made me see that I needed to change, to move out of the informal sector in order to develop my business. I was able to print advertising brochures, which I distributed to various businesses. Today, if people need a catering service, they contact me directly. If I had not had this training, I would have always been one of those good ladies along the side of the road. Now I'm sure that I am building a lasting business that my children and grandchildren will be able to take over when I'm no longer there," she says.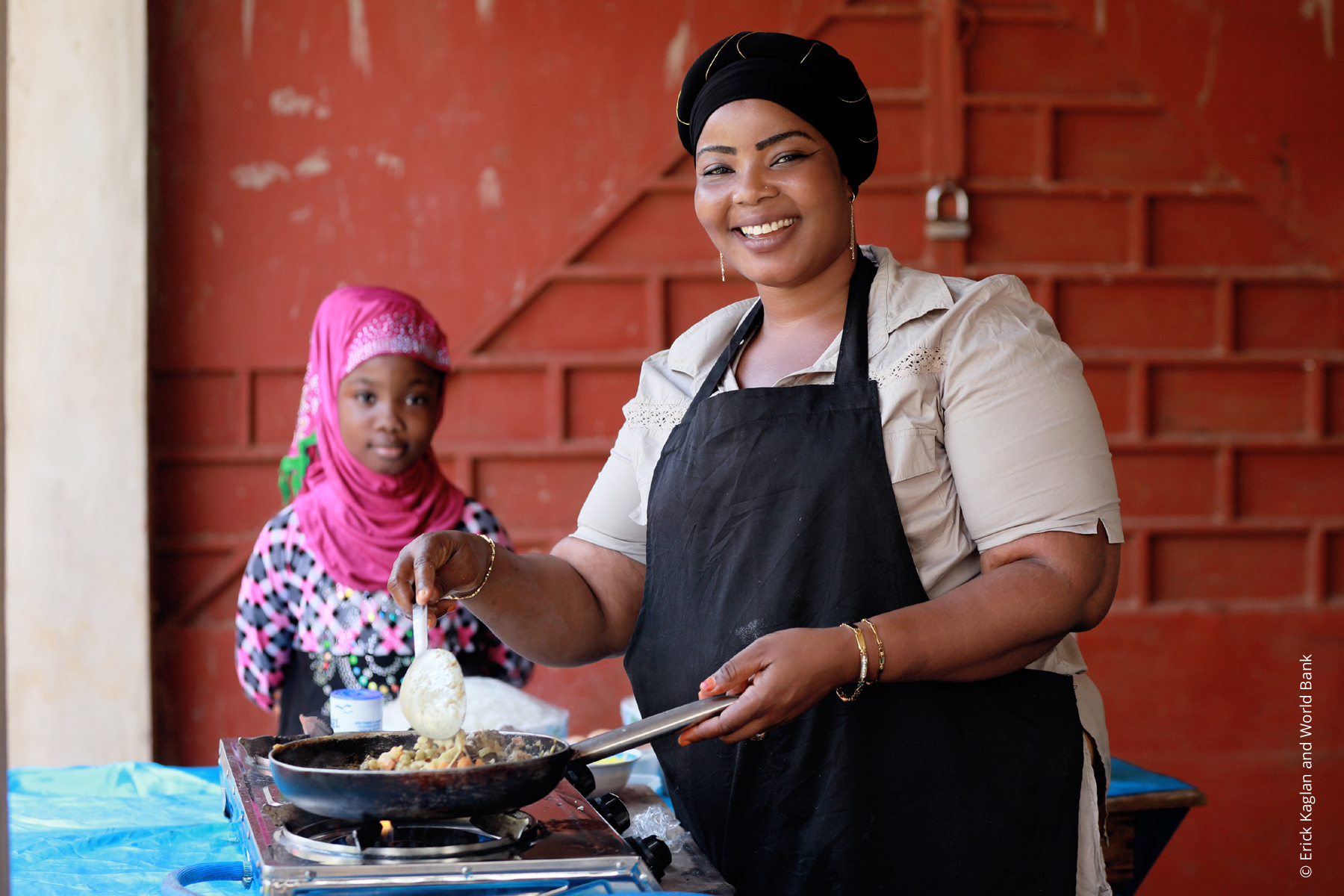 Salifou is now an accomplished economic operator who is asked to prepare luncheons for training seminars in ministries and other organizations in Togo. She believes that she can grow her business enough to one day cater to heads of state. To realize her dream, she is building a recreation center that will include a restaurant, bar, VIP space, banquet room and, most importantly, a cooking school to train the next generation. Her ambition is to train young women in the preparation of typical Togolese dishes and to export them around the world. She has also started a small side business that offers guided tours.